Local Government's Three Obstacles to Bringing Tax Online: Part One
by Shylo Bisnett, on February 1, 2021 at 10:06 AM
Part One: Not Enough Time.
Our focus is specifically on the challenges of cities, counties, and towns—all levels of local government. And through our decades of partnerships with local governments across the United States, we've identified three core challenges when local governments consider how to adapt to an increased demand for online services. Specifically, when local governments weigh whether to provide convenience to businesses by offering digital tax filing and payment—taking the paper out of the process.

Over the next few weeks, we're going to take a deep-dive look at the three top objections to digitization we hear from local leaders and look at logical reasons to counter these real concerns. At the end of the month, we'll collect these posts into a downloadable eBook that you can share with your finance and IT team.
Local governments like yours are working harder than ever these days—and often with small budgets and fewer employees. But that doesn't mean that civic leaders can choose to provide fewer services. Rather, local governments are expected to provide consumer-style service with high levels of functionality. No excuses.
Benefits of Adding Digital Tax Administration Tools:
Added convenience and flexibility for busy taxpayers
Less hassle and fewer errors for harried staff
Revenue boost through increased compliance
Increased social-distancing via remote remittance
Satisfied business community that feels supported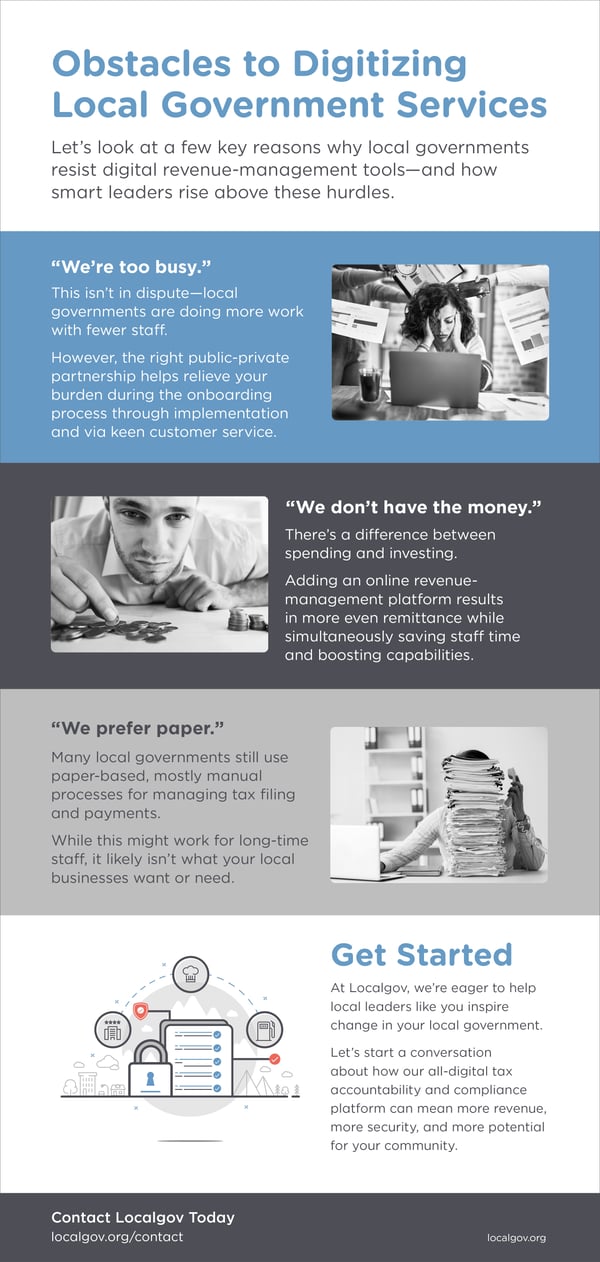 Click to read a larger version of our quick-hits PDF. Share with your local government finance team, IT department, and other decision makers.
However, when local governments are saddled with out-of-date, paper-based equipment and processes, civic employees simply can't provide the kind of experience that today's savvy taxpayers expect. But making the leap into digitization doesn't have to be so intimidating. All you need is a smart partner who understands the challenges of local governments, what you're up against, and how to answer common concerns.

Let's take a look at the first of three top obstacles faced when local governments consider making the jump to an all-digital tax administration platform.
"We're just stretched so thin. We can't take the time to evaluate, select, and onboard new revenue-management software."
This is a valid concern. Between reductions in force and unfilled positions, many local governments are operating with fewer staff. However, adding a digital tax administration platform doesn't have to be a herculean effort. The right partner will connect municipal employees with implementation experts that take care of the whole process, end to end.
How Vendor Sales Execs Can Help
This should start during the buying process. Your potential partner should be able to clearly explain what benefits your community might reap from adding a streamlined tax administration solution. Case studies and customer references should give you the confidence that your choice translate into an ability to do more for your taxpayers, manage current staff more effectively, and stabilize revenue for your community.
Implementation Teams Do Heavy Lifting
Once you've selected a partner and it's time to get started, the implementation team should give you the reassurance you need that you've made the right choice. For example, Localgov's implementation department is led by professionals with library science degrees. Their keen attention to detail means that your existing documentation and procedures are respected and then augmented when incorporated into a system like Localgov. Plus, our platform integrates seamlessly with your current revenue-management software. We've designed it to play well with major packages via universal import/export capabilities. And when a more bespoke fix is required, our development staff handles fixes swiftly and securely.
Careful Customer Care Saves Time, Ensures Compliance
This same team is responsible for training—not only your municipal staff, but also your taxpayers. Localgov's implementation and customer-service professionals make sure that your employees are fully up to speed on how to use the online platform from multiple perspectives so your department never misses a beat. But it's through our concierge-style customer-service philosophy that your community will really see the biggest gains.
As a former business owner myself, I understand their frustrations and fears and have built a staff that really cares about helping."

— Aquanetta Olive-White
Customer Service Team Lead
Consider all of the hours you're currently spending supporting your taxpayers, answering their questions, helping them fill out forms. Depending on the size of your municipality, that could be anywhere from dozens to hundreds of hours per month. But what if you could hand off that task to dedicated local-government experts who really know your ordinances and care about your taxpayers the way you do? What else could your department do with that freed-up time?
Diagnose Your Dilemma
When it comes to making changes to your revenue-management technology, it's important to look at what's been holding your department back. Analyzing your challenges, whether they are actual or perceived roadblocks, can give guidance on how to most thoughtfully proceed.

Too little time: Acknowledge that department staff are busy and that any changes will require a bit of short-term sacrifice. Emphasize the long-term gains and lean on your partner to illustrate how they plan to help you smooth the path.
With Localgov, you stand to gain a partner that's truly focused on the needs of municipal governments. We listen closely to help you identify your community's challenges and needs and curate solutions that carefully address them.

By combining an easy-to-use tax filing & payment tool with a comprehensive reporting and analytics engine, Localgov gives municipalities more ways to manage cash flow, satisfy business taxpayers, and streamline operations. Learn more.

We're eager to speak with you to learn more about your local government's needs and how Localgov can meet and exceed your expectations. Set up a call with our team of local-government experts. To schedule your appointment, click here.